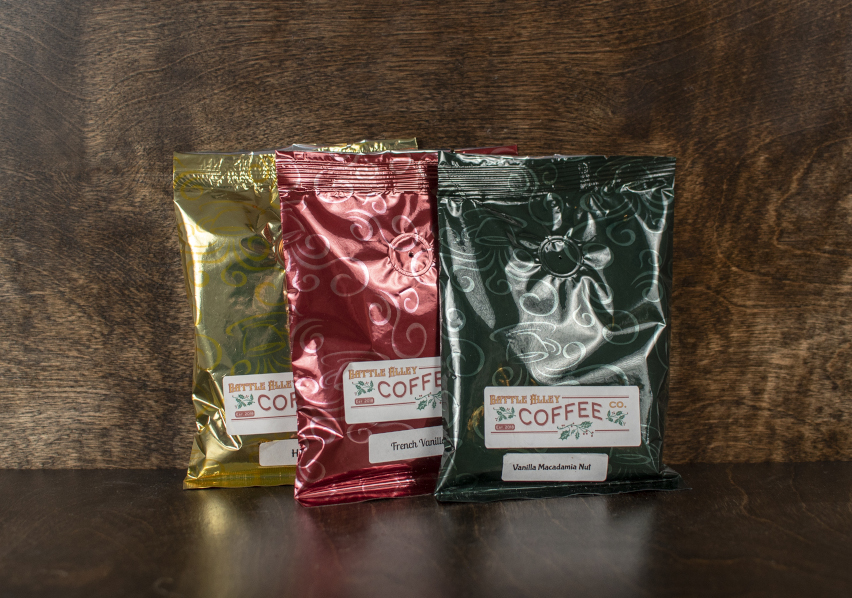 Custom Sample Pack
Create your own sample pack of five coffees.
$12.00
Create your own custom mix of five different coffees with our Custom Sample Pack. Choose from our most popular coffees for a perfect way to find your new favorite blend or flavor. Or, to give it as a gift. Each pouch of coffee makes about one pot.
Christmas in a Cup — Vanilla, cinnamon
Peppermint Mocha — Peppermint, chocolate
Scrooge's Snowflake — Coconut, peppermint
Holly Bonfire — Caramel, cinnamon, pecan
Groveland Campfire — Chocolate, hazelnut, cinnamon
Kenyan AA — Premium single origin beans from Kenya
Sumatra — Single origin beans from Sumatra
Battle Alley Blend — Our house blend
Jamaican Me Crazy — Vanilla, caramel, kahlúa
French Vanilla — French Vanilla ice cream
Michigan Cherry — Cherry
Irish Cream — Irish cream liquor
Hazelnut — Hazelnut
This coffee contains 100% Arabica beans which we roast to Full City (see our explanation of roasting levels here).
The Rainforest Alliance has certified our coffee supplier as using sustainably farmed beans.
Flavoring
When you buy flavored coffee from other companies, you often notice that the beans appear really shiny. That's from beans soaking in their flavoring compounds which typically use propylene glycol as a delivery mechanism. The flavoring solvent often overpowers the original taste of the coffee and is left on the outside of the beans, giving the shiny appearance. At Battle Alley Coffee, we use a different process to keep our beans untouched by the flavoring process.
Also, unlike other coffee companies, our flavors are not meant to hide a cheap cup of coffee. We use the same grade of high quality, 100% Arabica beans across all of our coffees that our customers have come to expect. Our flavored coffees give you the best of both worlds with the original coffee taste and the extra delicious tastes of our flavor blends.
| | |
| --- | --- |
| Weight | 12 oz |
| Coffee 1 | Christmas in a Cup, Peppermint Mocha, Scrooge's Snowflake, Holly Bonfire, Groveland Campfire, Kenyan AA, Sumatra, Battle Alley Blend, Jamaican Me Crazy, French Vanilla, Michigan Cherry, Irish Cream, Hazelnut |
| Coffee 2 | Christmas in a Cup, Peppermint Mocha, Scrooge's Snowflake, Holly Bonfire, Groveland Campfire, Kenyan AA, Sumatra, Battle Alley Blend, Jamaican Me Crazy, French Vanilla, Michigan Cherry, Irish Cream, Hazelnut |
| Coffee 3 | Christmas in a Cup, Peppermint Mocha, Scrooge's Snowflake, Holly Bonfire, Groveland Campfire, Kenyan AA, Sumatra, Battle Alley Blend, Jamaican Me Crazy, French Vanilla, Michigan Cherry, Irish Cream, Hazelnut |
| Coffee 4 | Christmas in a Cup, Peppermint Mocha, Scrooge's Snowflake, Holly Bonfire, Groveland Campfire, Kenyan AA, Sumatra, Battle Alley Blend, Jamaican Me Crazy, French Vanilla, Michigan Cherry, Irish Cream, Hazelnut |
| Coffee 5 | Christmas in a Cup, Peppermint Mocha, Scrooge's Snowflake, Holly Bonfire, Groveland Campfire, Kenyan AA, Sumatra, Battle Alley Blend, Jamaican Me Crazy, French Vanilla, Michigan Cherry, Irish Cream, Hazelnut |